North American Skål Congress 2023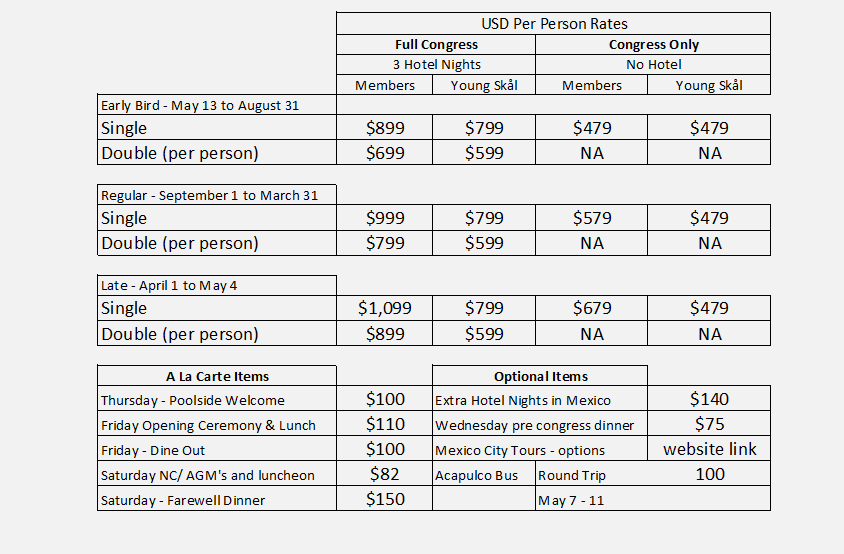 Terms, Conditions, Payments, Refunds
REGISTRATION
Congresses offer 3 price levels based on the lead time up to the Congress dates
Early Bird: Reduced price for a set period to promote advance deposits to help the host club manage cashflow in preparation for the Congress. This is for defined start & end dates
Regular Price: Prices reflect the actual congress registration fee
Late Price: This is a final adjustment for late registrations usually impacted by hotel room block cut-off price changes or third-party congress program late fees that have to be manually handled.
PAYMMENTS
DEPOSITS for Individuals or groups
Deposits can be made any time up to the end of the REGULAR PRICE period. Deposits can be made for oneself, couples, 2 delegates (split bills) or group deposits for up to 20 people.
TRANSFERS OF REGISTRAITON/ DEPOSITS
Deposits can be transferred to other delegates without penalty up to the end of the REGULAR PRICE period. Transfers during the LATE PRICE period will be subject to a $50 administration charge.
PRICES
EARLY BIRD: Guarantees the lowest price if the balance is paid by the stated cut-off date.
REGULAR PRICE: Payments made by the stated start date are charged the regular price if the balance is paid by the stated cut-off date.
LATE PRICE: Full payment is required at time of registration from this date forward
LATE PAYMENTS: Any late payments (full or partial) trigger the final price based on the latest congress pricing at the time of payment. i.e., if you made an Early Bird deposit but only paid the balance at the Late Price period, your balance is calculated from this latest congress price.
DELINQUENT ACCOUNT: Any balance of registration fees not paid in full at least 14 days prior to the congress will be subject to a $50 administration fee for collection.
DISPUTES: The recorded transaction dates are the final determination in resolving price matters
REFUNDS
Early Bird deposits are non-refundable. These funds help cover all the pre-congress administration and out-of-pocket expenses incurred by a host club regardless if a congress cancelled. It is our internal insurance to protect host clubs from potentially incurring significant losses if there was an unexpected significant drop in registrants or outright cancellation of a congress. The exception is if there is a medical situation with written documentation provided by a professional licensed caregiver.
Medical conditions with written documentation provided by a professonal licensed caregiver, or death of a family member, fully documented, are the only causes for reimbursement in the LATE PRICING PERIOD.
Changes during the LATE PRICING PERIOD will be subject to a $100 administration fee at the discretion of the Host Club.
Refunds will not be made for any registrant who does not attend and, therefore, qualifies as a "NO SHOW".
No refunds will be made for any component included in the Congress package but not used.
PROCESSING FEES
Administrative fee 4.0% will be applied for all automated transactions. Manually processed transactions are subject to a 4.5% administrative fee.
If there is a discrepancy between the amount charged on a credit card and the amount shown on the website, prices on the website will prevail.
TRIP CANCELLATION INSURANCE
It is strongly recommended that you purchase appropriate travel/ cancellation/ health related travel insurance.